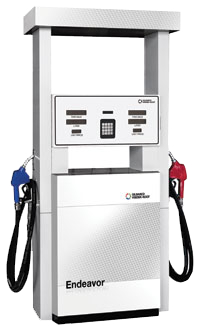 Endeavor Dispenser Series
Gilbarco's entry-level offering of singles and duals made in our wholly-owned China facility. Combines global technologies with competitive manufacturing to deliver a high value solution; experience Gilbarco quality even on a tight budget
Great price
Manufactured in Gilbarco's low cost facility
Lowest price among Gilbarco comparables
Uncompromising
Meets regulatory requirements (OIML complaint, ATEX version available)
Gilbarco world-wide quality standard
Uses Gilbarco's CFT meter
Gerotor pump
Flexibility
Full range of options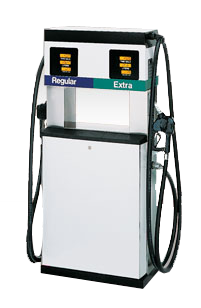 Perfomers Dispenser Series
Gilbarco Veeder-Root, the world leader in electronic dispenser technology, now brings you its value in an economical package: the Performer series of pumps and dispensers.
Inside, the Performer series includes the same highly reliable electronic components and hydraulic assemblies used in Gilbarco's Legacy® pumps and dispensers. The Performer series is also specifically designed to bring you the benefits of Gilbarco technology in a high value package.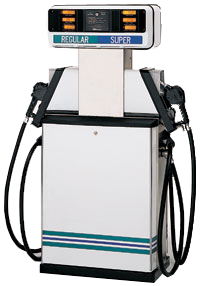 Legacy Dispenser Series
The Legacy dispenser is made in the USA to the highest quality standards.
We called upon our decades of experience with Highline™, Trimline, and commercial units.
Then we added the time-proven technologies of The Advantage® series. And the Legacy® series was born.
The electronic Legacy® model allows communications with controllers, cash registers, and computers for complete retail site management.
Key Distinguishing Feature:
Designed for highly reliable service and lower cost of ownership.
Simplified hydraulics
Improved service access
Hydraulic connections reduced by over 50% for fewer potential leak points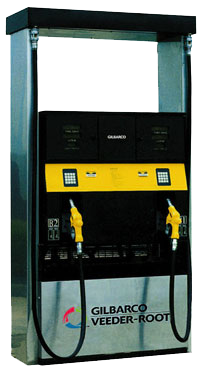 Advantage Dispenser Series
The next generation Gilbarco's classic "Advantage Series" offers reliable fueling with a range of new security and throughput features. Universal Advantage's contemporary image enhances any forecourt; positioning your stations or network in a premier fashion.
> High-throughput "powerhouse" 
– MPD for fueling flexibility (up to 8 hoses, 4 fuel grades)
– MPDs to maximum fueling positions (up to 4 displays)
– Gilbarco quality and reliability; field-proven electronics
– New stylish image to enhance forecourt; attracting fueling customers
> Best-in-class TCO
– Gilbarco's CFT meter; accurate metering with minimal drift
– Lowest price among Gilbarco comparables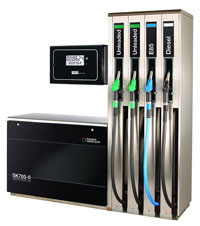 SK700-II Dispenser Series
The SK700-II is Gilbarco Veeder-Root's flagship dispenser product. Technologically advanced with state-of-the-art electronics, the SK700-II is designed to offer best end-user experience.
Lowest total cost of ownership
Patented Ecometer and automatic temperature compensation significantly reduces fuel losses
Rugged and solid design through a strong and fully supporting structure guarantees lasting use
Adaptable
On-site upgradeable dispenser head to integrate Gilbarco FlexPay CRIND and third party payment options
Retrofit kits for Ecometer, automatic temperature compensation (ATC) and Vapour Recovery Stage II
Combination units offering alternative fuels in the same dispenser
Superior end-user experience
Best-in-class hose management for further reach and effortless handling
Low noise pumping unit offering pleasant end-user experience